Fall 2018 Schedule will be posted by 8-4-2017.
Former Student Tony Yazbeck in New Weight Watchers Commercial (click here)
Kristina Zittel, Headliners National Talent Competition's Highest Scoring Teen Soloist, Summer 2013. Kristina and another student, eleven year old Amanda Peet will be featured in DANCE SPIRIT'S Magazine soon! Amanda is going to be one of the Dancers to Watch in the Future!

Testimonials
I was four years old the first time I stepped into the studio. It was this foreign place, with bars attached to walls and gigantic mirrors that took up whole rooms. Little did I know that in the years to come, this studio would become my home, these people would become my family, and dance would become my life. Dance has truly shaped me to be the person I am today. It has taught me how to function under pressure, cooperate with others, learn quickly, pay attention to the slightest details, take care of my body, be respectful, and never take this wonderful gift I have been blessed with for granted. Dance has given me an incredible work ethic that has not only helped me succeed in the art, but in school as well. It has taught me to manage my time in a way so I can complete my schoolwork efficiently. Dance has also expanded my creativity. Whenever I listen to a song, whether it's Beyonce or Beethoven, every beat, every chord, every lyric takes a hold of my mind and body and inspires me with visions of movement. But what I love most is that dance is therapeutic. I may have an absolutely awful day, but when I step through the doors of my studio, all my troubles go away. It's just those four walls, the music, and me.

The years my daughter has spent at Rolann's School of the Dance are coming to a close.  As a mother watching her prepare for a new phase of life in college, I can't help but reflect on the past, the road we have traveled together and the special individuals of importance in her life. 
Countless hours of more than a decade of my daughters' young life have been spent in the strict confinement of a small dance studio whose walls could never contain the vast life's lessons of wisdom and success that she has learned.  To say that I am grateful to Rolann Owens and RJ Mitchell, merely begins to tap into the thanks I feel.  The young lady I see in my daughter is one of strength, beauty, kindness, high morals, creativity and intelligence.  Considering the amount of time a child spends at school and then at their chosen art or sport, the outside world has great influence on them and I recognize that she is not only molded by her family and faith, but her wonderful teachers as well.  This is why I was careful in my choice of Rolann's.
At first, life in a dance studio seems overwhelming:  the commitment, the hours, the lifestyle inconveniences, the imposition on family time, is it worth it?  If your child loves it, absolutely yes.   Most often these children excel in school, learning time management, commitment and hard work.  The camaraderie, incredible friendships and ability to relate, communicate and resolve personal problems, which no doubt arise in such a small, intense setting, are valuable life lessons.  All of us, parents and dancers alike, become one greater family.
Many years ago I researched and visited several dance studios before choosing Rolann's School of the Dance.  At that time, my basic knowledge of dance was that you need excellence in ballet, excellence in ballet, and excellence in ballet.  In my wise ignorance all I knew is that in order to be a good dancer of any style, an exceptional foundation and growth in continuing proper ballet training is a must, and Rolann's had (and has) it.  My daughter spends hours every week in ballet classes always taught by professional, respected, working ballet dancers.   At the time, what I didn't know is that the studio has an even greater wealth and depth in providing award-winning lyrical, jazz, tap and contemporary dance. 
It wasn't until my children's (I also had 2 boys who took tap and ballet—simply because I felt it important that boys have some sense of dance rhythm), first dance recital that I knew my family was in the right place.  The opening number of the senior company dancers, with RJ's award-winning choreography, brought me to tears in its beauty.  I had no idea that high school children could dance with such grace, assurance, ability and maturity. And although my little ones were finding skips, hops and leaps challenging, the juxtaposition was eye opening.  I saw the road ahead and was in awe.
RJ and Rolann have been amazing.  They both have had an important, positive impact on my daughter.  Their advice and active help regarding dance, music, and academic scholarships and opportunities, has been generously extended to all their students through the years.  From Presidential Scholars to Broadway dancers to successful dancers and actresses in LA, to doctors and lawyers, the studio has been a springboard for many successful young people.  I personally know these young people and I personally have been back stage at the Broadway performance of Wicked or the Las Vegas performance of Jersey Boys, by either a student who danced at Rolann's or a guest teacher who taught at Rolann's.  What I have found most admirable of both RJ and Rolann, is that when they speak of the many successes their dancers have had over the years, it is never with arrogance, pride, or an attempt to claim the spotlight for themselves.  It is related with sheer happiness for the former students themselves, and encouragement for the current students.  That type of attitude can only come from the selfless love of very good and generous teachers.
I am grateful that Rolann's School of the Dance was my daughter's solace, world of creative expression and learning for more than a decade.   We've attended the most competitive of the competitions through the years, she has won numerous national and regional awards, she has trained with some of the top choreographers in the world (many of whom you now see on TV with the competitive dance shows), she has been hand selected (again by a top choreographer) to appear in a show in NYC,  and has received scholarships to take classes at 2 of the best known professional dance studios in both LA and NYC,  and yet, at the end of the day, all of this pales in comparison to the person she has become and her preparation for life.
With love and thanks to 2 terrific teachers and one wonderful dance studio,
Pamela F.     
Hi Rolann -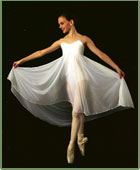 I'm hoping you remember my daughter Leslie. She started dancing at your studio when she was 3 and danced there until she was almost 7 (2005) when we were transferred to Michigan. Due to the great work that you and your team did with her, she is still passionate about dancing to this day (she is a ballet addict, but takes almost every form of dance training imaginable), and still talks longingly of the great memories she has of your studio. Miss Zoica was her ballet teacher then, and Leslie adored her. We miss Rolanns SOTD to this day.

I wanted you to share this photo with you. She is now 12 and just went en pointe in January, and performed in June to Amazing Grace. She is a competitive dancer at her studio in Michigan, and still hopes to see you and your dancers at a competition some day. She also auditioned and performed as a Party Girl in the Nutcracker this year with the Cincinnati Ballet. She will be auditioning to do so again this year with the Joffrey Ballet at the Detroit Opera House. She longs to become a profressional dancer. Ballet, of course!

Thanks so much for giving Leslie such a great start in her dancing career. She sends a huge hug to you and to Miss Zoica.

Patti Mahan